Dil's Donuts
sarahs-rugrats > fun > cook > dils donus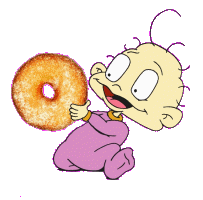 Makes:
24
You will need:
1 cup granulated sugar
3 1/2 teaspoons baking powder
1/2 teaspoon cinnamon
1/2 teaspoon nutmeg
1/2 teaspoon salt
4 cups all-purpose flour
2 eggs
1 cup milk
3 tablespoons melted butter
Fat (for deep-fat frying)
Instructions:
1.
Sift together sugar, baking powder, cinnamon, nutmeg, salt, and flour.
2.
Beat eggs thoroughly, then stir into dry ingredients.
3.
Add the milk and melted butter.
4.
Roll about 1/2 inch thick on a floured board and cut with a doughnut cutter.
5.
Fry several at a time in 375F fat until nicely browned.
6.
Drain on paper towels. Dust with granulated or confectioners' sugar.
WARNING:
Fat is extremely dangerous when heated and can cause serious burns. Children should not attempt this recipie without an adult.