Phil's Flapjacks
sarahs-rugrats > fun > cook > phils flapjacks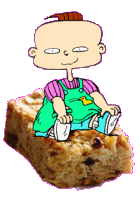 Cooking Time:
30 minutes
Makes:
16
You will need:
125g/4oz margarine
125g/4oz soft brown sugar
250g/8oz rolled oats
75g/3oz golden syrup
Instructions:
1.
Melt the margarine with the sugar and syrup, then stir in the rolled oats and mix thoroughly.
2.
Turn into a greased, shallow (20cm/8 inches) square tin and smooth the top with a palette knife.
3.
Bake in a preheated moderate oven, 180°C (350°F), for 25 to 30 minutes until golden brown.
4.
Cool in the tin for 2 minutes then cut into fingers
5.
Cool completely before removing from the tin.
TIP: For an extra treat dip the top of the flapjack in melted chocolate. Leave to set.