Grandpa's Gingerbread Cookies
sarahs-rugrats > fun > cook > grandpas gingerbread cookies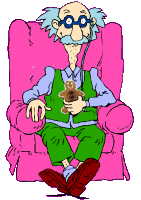 You will need:
1 stick butter - softened
1/2 cup sugar
1 1/2 tsp ground ginger
1 tsp ground cinnamon
1 tsp baking powder
1/2 tsp allspice
1/2 tsp baking soda
1/2 cup molasses/treacle
1 large egg yolk
2 cups all purpose flour
Colored frosting to decorate
Instructions:
1.
Cream butter and sugar in a large bowl with electric mixer until creamy and smooth.
2.
Beat in ginger, cinnamon, baking powder, allspice and baking soda until blended.
3.
Beat in molasses and yolk. On low speed, beat in flour.
4.
Divide dough in half, wrap and chill until firm.
5.
Heat oven to 350F. Roll half the dough at a time on a well floured surface to 1/8 inch thickness.
6.
Cut with floured cookie cutters. Transfer with spatula to ungreased cookie sheets.
7.
Bake 8-10 minutes until lightly browned. Let cookies cool on cookie sheets aprox 1 minute than transfer to racks.
8.
Decorate as desired and enjoy!
TIP: To decorate you could use cookie cutters in the shape of people to make gingerbread men. Or if you're feeling really creative try cutting the gingerbread into the shape of the Rugrats characters using a knife instead. But get an adult to help you with this. Then you can use colored frosting to add their clothes!