Chuckie's Chocolate Crispie Treats
sarahs-rugrats > fun > cook > chuckies choc cripie treats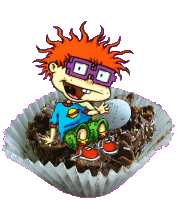 Preparation time:
10 minutes
Cooking Time:
5 minutes
Makes:
18
You will need:
50g/2oz butter or margarine
50g/2oz cocoa powder
2 tablespoons golden syrup
50g/2oz cornflakes or rice crispies
50g/2oz chopped walnuts (can be left out)
Instructions:
1.
Place 18 paper cases on a wire rack.
2.
Over a low heat, melt together the butter or margarine, cocoa powder and syrup.
3.
Stir in the cornflakes (or rice crispies) and walnuts and stir until roughly mixed.
4.
Spoon into the paper cases and leave to set
5.
These are best eaten the day they are made.
WARNING: THIS RECIPE CONTAINS NUTS